What is it?
Get new clients started with confidence with Acne Assist, a new business tool that uses your expert skin analysis to create a routine roadmap for clients to follow the first six weeks of their clear skin journey. As an interactive foundation, this tool will fortify your acne treatment knowledge and streamline consultations. With Acne Assist, new Acne Experts can familiarize themselves with the protocol in a practical and efficient way, while seasoned Acne Experts will find a quick reference guide for their practice and an easy way to train and mentor others.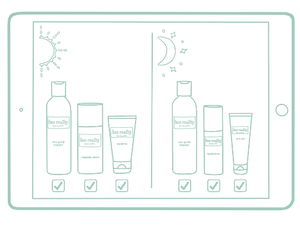 Benefits
Easy to use
Downloadable routine PDF
Immediate treatment support
Reassurance that you and your clients are on the right track
How It Works

1. Log in

2. Go to my account

3. Click on Acne Assist in the left side menu
On the first page of Acne Assist, you will see several terms that you must agree to before proceeding. Please read and check all boxes to continue.

After you have completed the agreement form, you will be taken to the Client Information Page. Enter all information specific to your client's skin type & condition. Enter all information before clicking "Get Routine".

Once you have clicked Get Routine, you will land on the Recommended Routine page that will list all recommended products based on the conditions provided on the Client Information page. This is the list of products needed for the first 6 weeks of treatment.

Below the list of Recommended Products, you will find the morning and evening routines for your client. There are tabs for weeks 1-2, 3-4, and 5-6. The Acne Med (see arrow) schedule can be found below the morning and evening routine tables.

In the top right corner of the screen, you will see the Download button. You can download week 1-2, week 3-4, or week-5-6 individually or download all weeks. You can keep these for your records and/or share these with your client.