ACNE, ANSWERED.
Face Reality Skincare offers skincare professionals the most comprehensive online acne training available so that they can identify and treat even the most stubborn acne cases using Face Reality's holistic treatment protocol.

*If you are a business owner without your own professional skincare license but have a lead esthetician/medical provider on staff who would be performing treatments, please contact the Acne Expert Success Team (experts@facerealityskincare.com) to confirm your business meets our certification requirements.
TRAINING COST*
$600
For access to initial online training course, training videos, orientation, and advanced education.
ACCESS TO DISCOUNTED
BUNDLES
Save up to $975 when you choose from a variety of bundles that offer back bar and retail product assortments based on business needs.
Only available for a limited time
PLUS
FREE
UNLIMITED ACCESS
To Face Reality resources including the Acne Expert Success Team, marketing materials and online tools.
*Please note that training is non-refundable and non-transferable, and products are only available for purchase to skincare professionals licensed within the United States.
#1 ACNE EDUCATION
Learn what acne is (and is not), types, severities, imposters, contributing lifestyle factors, treatment protocols, and much more with our acne training. The education doesn't stop there—keep enriching your practice with ongoing, advanced education throughout the year.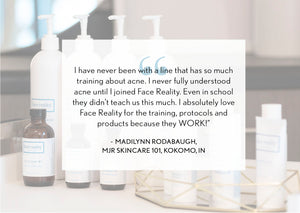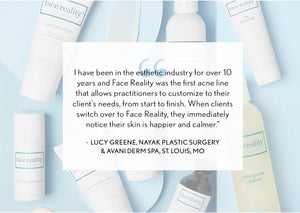 AWARD WINNING PROFESSIONAL PRODUCTS
Our expertly formulated products use only the safest, most effective ingredients to fight acne and nourish the skin. Certified Acne Experts use our fully comprehensive line to build personalized routines tailored to their client's individual needs.


*Face Reality does not ship outside the United States and its products are not authorized for sale or use outside of the United States


TOOLS FOR A BEST-IN-CLASS BUSINESS


Marketing assets and client forms


Direct-to-Client Shipping: ship products in a snap


Acne Assist: quickly build routines for new clients


Acne Expert Locator: we send new clients to you


Product Credit: earn credit when clients shop online


COMMUNITY AND SUPPORT


Learn and engage with an active community of peers


Dedicated support from our Acne Expert Success Team


Virtual orientation event to help you get your acne practice up and running
Get exclusive insights from our Acne Clinic


1
Complete
Our Acne Expert Certification Course
2
PASS
Pass the open book certification exam. You may take the exam as many times as needed to pass with a 100%
3
SUBMIT
Required documents:

Current Esthetics license
Document Confirming Tax Exempt Status
(Examples: Official IRS EIN letter, Reseller's Permit, Resale Certificate)
Proof of liability insurance for yourself or the establishment for whom you work
Seller's Permit
(if your business is in California or Nevada)
*We cannot accept handwritten or expired documents
4
ATTEND
New Acne Expert Virtual Orientation led by members of our industry-leading Acne Expert Success Team.